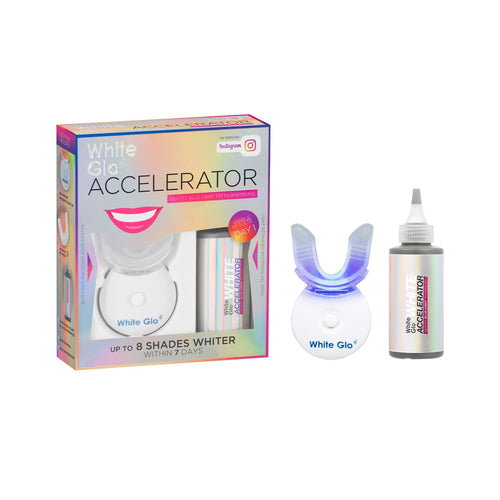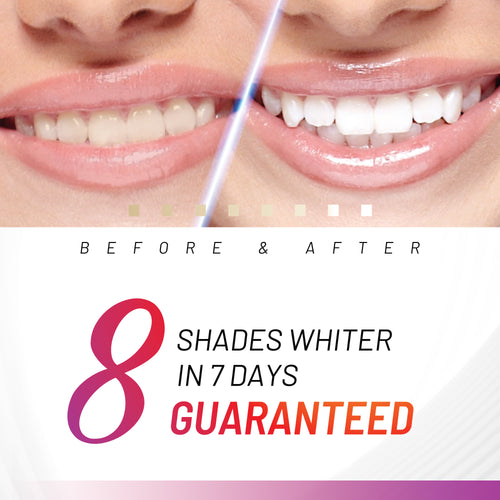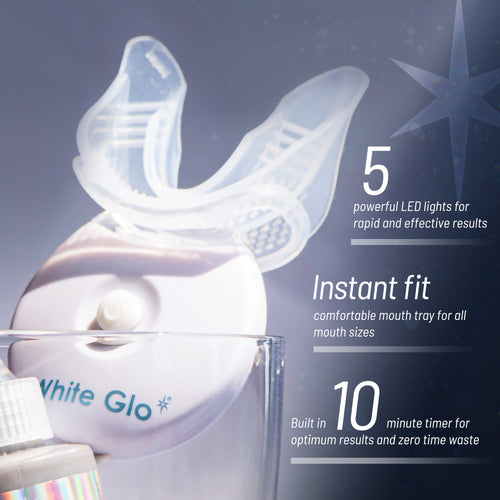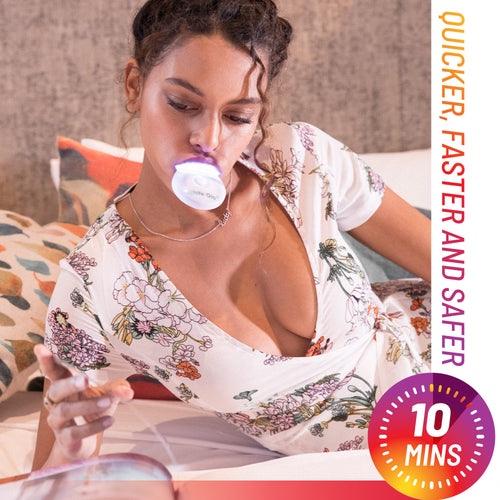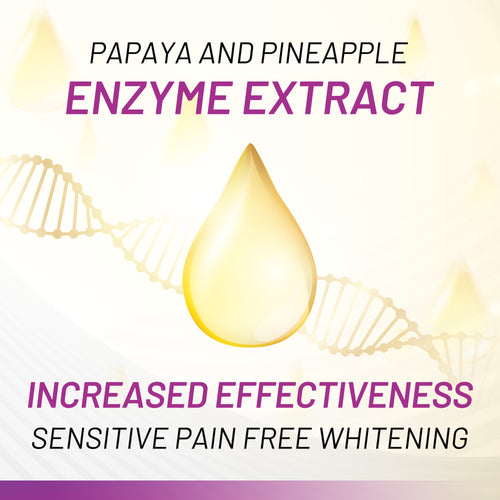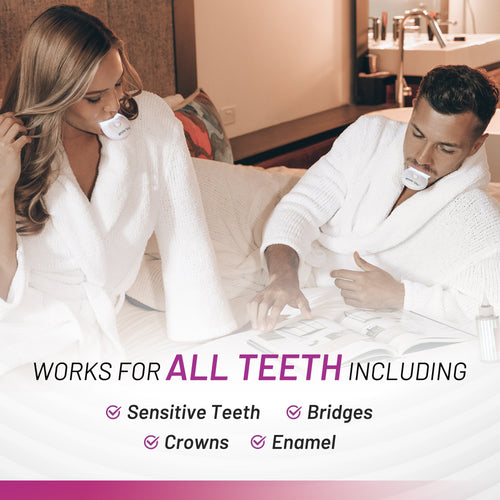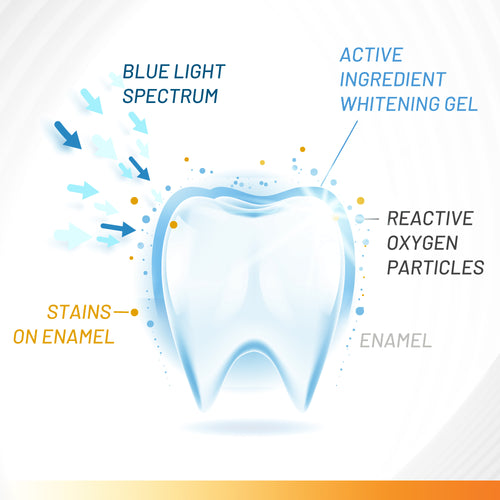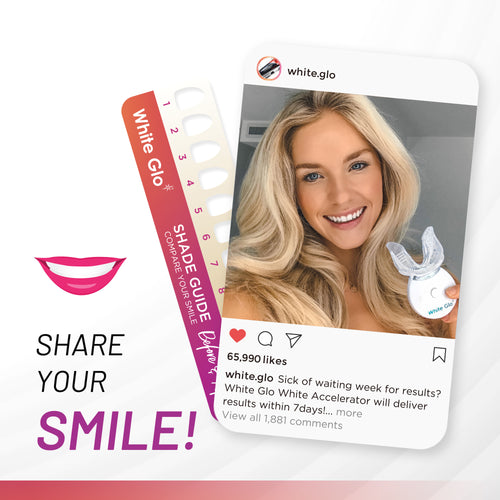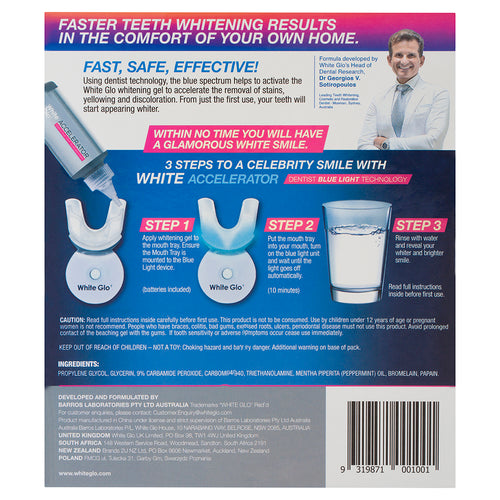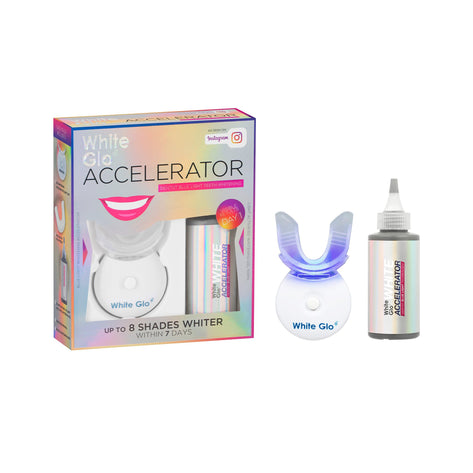 ACCELERATOR
Teeth Whitening Kit
Regular price
$49.95
Sale price
$34.95
Unit price
per
Sale
Sold out
100% money back guarantee
Free domestic shipping over $50
FAST, SAFE, EFFECTIVE! Whiten your teeth by up to 8 shades in just 7 days. Our at-home Accelerator Teeth Whitening Kit with blue LED light removes stubborn stains, yellowing and discolouration from your teeth. Each kit includes 50 uses.
1x Blue Light Accelerator Unit
1x Instant Fit Mouthtray
1x 50 Application of Light Activated Whitening Gel
1x Instruction Manual
1x Results Monitoring Guide
Propylene Glycol, Glycerin, 9% Carbamide Peroxide, Carbomer 940, Triethanolamine, Mentha Piperita (Peppermint) Oil, Bromelain, Papain.
Apply the whitening gel to the mouth tray. Ensure the mouth tray is mounted to the blue light device
Put the mouth tray into your mouth, turn on the blue light unit and wait until the light goes off automatically after 10 minutes
Rinse with water and reveal your whiter, brighter and most confident smile
How does it work?
The White Glo Accelerator Teeth Whitening Kit with LED light uses dentist-developed Blue Light Technology and a uniquely formulated whitening gel to remove stains from the surface of your teeth.
The whitening gel is formulated with safe levels of Carbamide Peroxide, which is activated by the Blue Light Technology in the mouthguard. Together, they gently and effectively lift discoloration from the tooth enamel.

When will I see results?
Many of our users claim to see whitening results after just one use. The most noticeable results should appear after 7 consecutive treatments. A tooth shade comparison chart is included in each kit - you can use this to monitor your teeth whitening progress.

Will my teeth get sensitive using this product?
The Accelerator Teeth Whitening Kit was designed with teeth sensitivity in mind. Although it is very uncommon, on occasions, teeth sensitivity can occur. If you do experience sensitivity while using the Accelerator, we recommend limiting each use to 5 minutes instead of 10, and leaving a rest day between each treatment. If you are concerned about whether this product is suitable for you, we recommend consulting a trusted dental health practitioner.

Can it be used on veneers, dentures, braces etc.
White Glo Whitening Treatments are safe to use on dental work such as braces, veneers and dentures, however it is unlikely that these will respond to any whitening.


Read what our amazing community have said.
Give yourself the opportunity to try our new range.
We promise not to bombard your inbox. Receive 10% off on your first order and keep up to date on consumer trials and product giveaways.