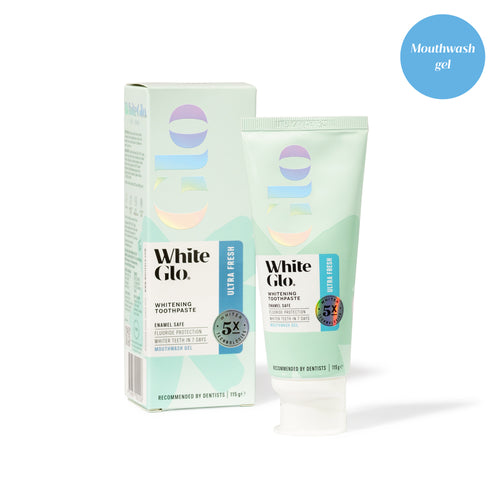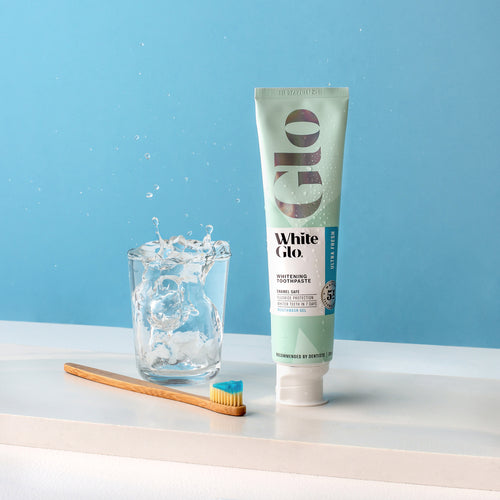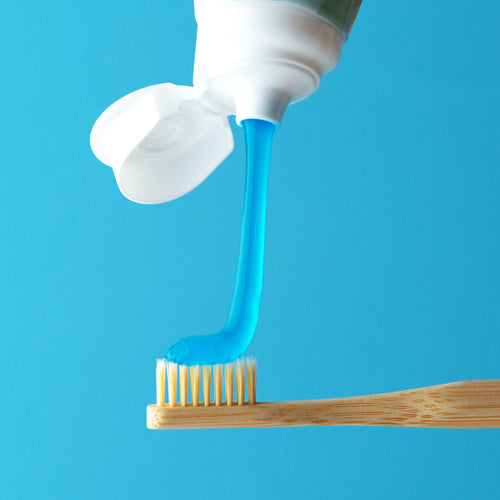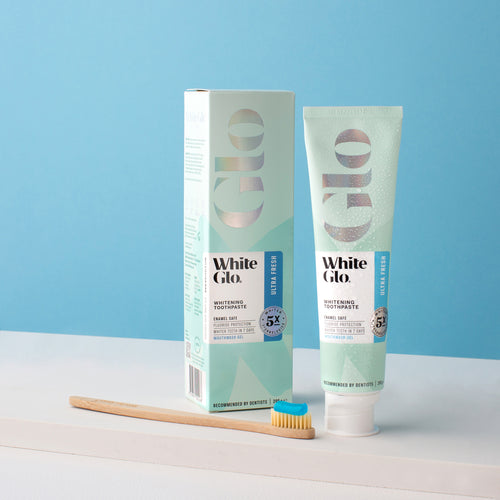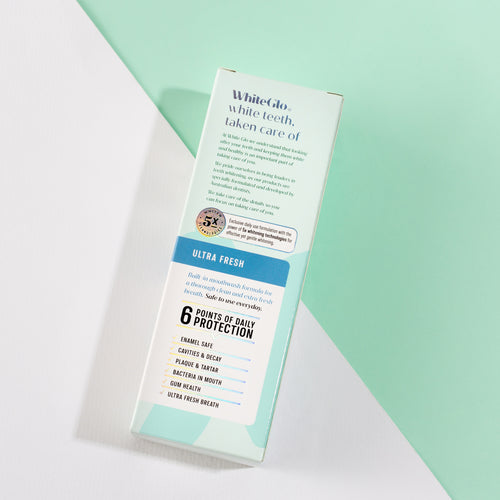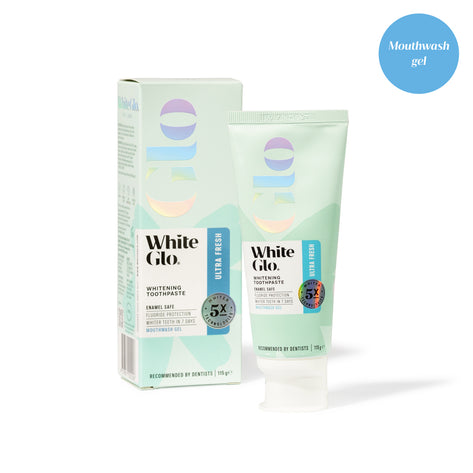 ULTRA FRESH
Whitening Toothpaste
Regular price
Sale price
$5.00
Unit price
per
Sale
Sold out
100% money back guarantee
Free domestic shipping over $50
Built-in mouthwash formula for a thorough clean and extra fresh breath.
This advanced toothpaste gel is formulated with a mouthwash-base to achieve the cleanest mouth and freshest breath. Evercool technology ensures clean, fresh breath that GLO's the distance. Achieve whiter teeth in 7 days.
Enamel safe
Fluoride protection
Whiter teeth in 7 days
Fresh mint
Use daily in place of your ordinary toothpaste.
Brush thoroughly twice a day. Do not swallow.
Do not use this product for children aged 6 and under.
Store in a cool place away from heat.
Good question! After extensive research in conjunction with the best in this field ( a world leading, 100-year-old European fragrance house) we have developed an exciting new flavour.
Our one-of-a-kind Mouthwash Gel is the ultimate in clean mouth feel. Think: all the freshness of a minty peppermint menthol blend, with the cleaning power of mouthwash, thanks to our unique formula. For ultra clean feeling teeth and lasting fresh breath.
With 25 years of experience in producing whitening toothpastes, we have learnt a little in getting the formulation right. This toothpaste is designed to be gentle enough to use daily, is enamel safe and won't cause any tooth sensitivity. The fluoride formulation provides 6 points of protection to care for your whole mouth.
5x Whiter Technologies comprises of PAP, Peroxide, Baking Soda, Natural Enzymes and Soft Polishing Powders. The dentist developed formulation ensures it is tough on stains but gentle on teeth.
Sorbitol, Hydrated Silica, PEG-4, Aqua, Sodium Lauryl Sulfate, Aroma, Cellulose Gum, Sodium Phytate, Xanthan Gum, Sodium Saccharin, Sodium Benzoate, Mica, Glutamic Acid, PVP, Sodium Bicarbonate, Phthalimidoperoxycaproic Acid, Hydrogen Peroxide, Bromelain, Sodium Fluoride, CI 74160, CI 47005
Contains: Sodium Fluoride 0.22% w/w (1000 ppm F)
The most gentle and advanced whitening technology ever.
Exclusive daily use formulation with the power of 5x whitening technologies for effective yet gentle whitening.
Learn more
Carefully developed by dentist to ensure this low abrasive formulation is safe to use daily
Simply brush with White Glo toothpaste twice daily for noticeable results from as soon as 3 days!
The extra gentle formulation makes this toothpaste suitable for people prone to sensitive teeth.
Sourcing only the finest ingredients in each toothpaste we produce is essential to getting the most out of your daily toothpaste.
Trusted by the dental professionals.
"White Glo's new toothpaste range covers all oral concerns with fantastic whitening results."
DR. AODHAN DOCHERTY
AUSTRALIA'S LEADING COSMETIC DENTIST
Meet the new technology.
EVERCOOL
Every White Glo toothpaste leaves a lasting impression, not just on the whiteness of your smile. We've incorporated the latest in taste and flavour technology, Evercool®, into our new formulation, so you can enjoy the Evercool effect.
FRESH FOR HOURS
long-lasting fresh breath for up to 6 hours, even after eating and drinking
COOLING SENSATION
Enjoy that super-cool just brushed feeling for up to 4x longer then any other toothpaste
BYPASSES FOOD TASTE
Won't interfere with the flavour of food or drink
UNIQUE FLAVOURS
Selection of intriguing flavours, all with the Evercool effect
SOOTHING FEELING
Feel fresh and protected with every brush of our toothpaste
Six points of protection in every toothpaste.
EVERY ONE OF OUR TOOTHPASTES CONTAIN THESE 6 POINTS OF PROTECTION.
ENAMEL SAFE
White Glo's toothpastes are gentle enough to use daily, even for the most sensitive teeth
CAVITIES & DECAY
White Glo's fluoride formulation protects teeth against harmful bacteria and decay, reducing the risk of cavities and promoting fresh breath
Read more
PLAQUE & TARTAR
Our fluoride-enriched toothpastes, combined with twice-daily brushing and flossing, reduce build-up of plaque and the formation of tartar, keeping your smile white and healthy.
Read more
BACTERIA IN MOUTH
In combination with twice-daily brushing and flossing, White Glo toothpastes fight the bacteria caused by plaque build-up, keeping your enamel safe, preventing cavities and promoting fresh breath.
Read more
GUM HEALTH
Build-up of plaque and bacteria can also affect your gums. Our toothpastes help prevent this build-up and reduce the risk of gum disease.
Read more
ULTRA FRESH BREATH
Fresh breath starts with clean teeth and gums – our unique formulation eliminates the causes of bad breath, like plaque and bacteria, and seals the deal with super-fresh ingredients like mint, wintergreen and rosa canina fruit oil for lasting freshness.
Read more
Still have questions? We'll answer them.
Yes, White Glo toothpastes have been developed and are recommended by leading dentists.
They have been formulated as a daily use, gentle, enamel-safe whitening toothpaste. The toothpaste contains fluoride for all round oral care protection and formulated in a low abrasive formulation.
Due to our mild, gentle whitening technology, children from 7 years of age can use White Glo Toothpaste daily.
Start seeing results from just 3-7 days.
Consistency of use over 1 month will result in a noticeable difference. Remember to take a picture before using White Glo, to see how far your smile has come!
We're so glad you asked. Our new formulation, the White Glo 5x whiter Technologies Range is a breakthrough in science, creating a faster, gentler and more powerful whitening toothpaste that is formulated to be used daily.
At White Glo we have taken steps to be more conscious of our environmental impact, and we want to be transparent about that. Our new range contains 68 per cent less plastic than our previous products, something we're really proud about.
We have also partnered with cleantech company CleanHub, whose mission is to prevent plastic waste entering our oceans. Through its partnerships, CleanHub has recovered more than 1 million kilograms of plastic waste, and we are so proud to be part of this incredible missionabout.
It is our aim to be the number-one eco-friendly brand in supermarkets by 2024, and together with our expert team, we continue to develop and test biodegradable and reduced plastic innovationsformulation.
Specific concern?
Select the toothpaste that's right for you.
Read what our amazing community have said.
Free domestic shipping over $50
100% money back guarantee
Buy now pay later with afterpay
Buy now pay later with afterpay
Give yourself the opportunity to try our new range.
We promise not to bombard your inbox. Receive 10% off on your first order and keep up to date on consumer trials and product giveaways.