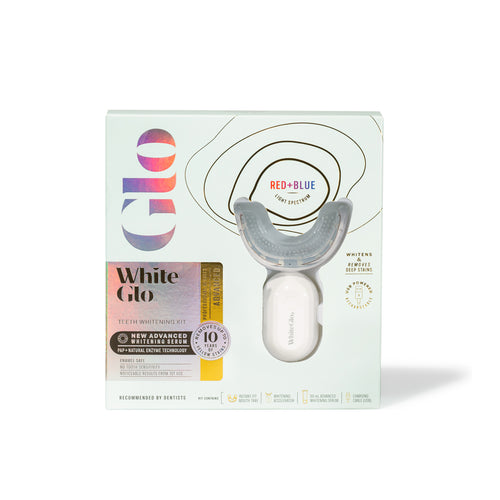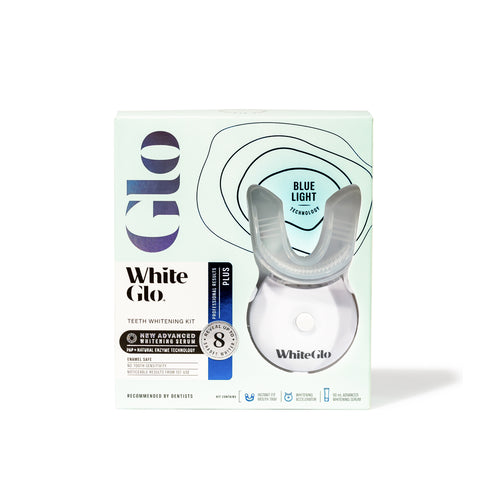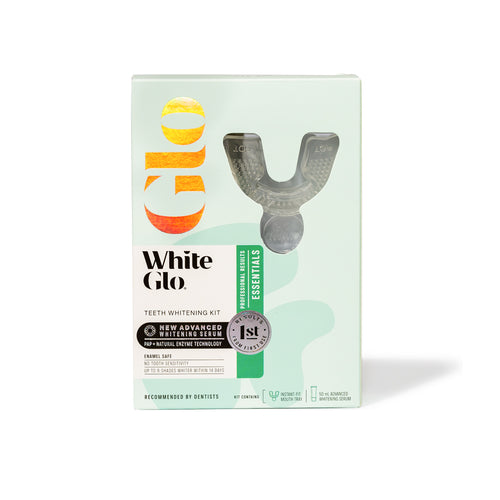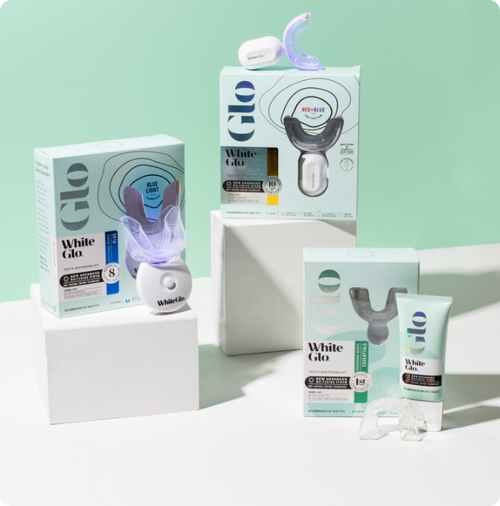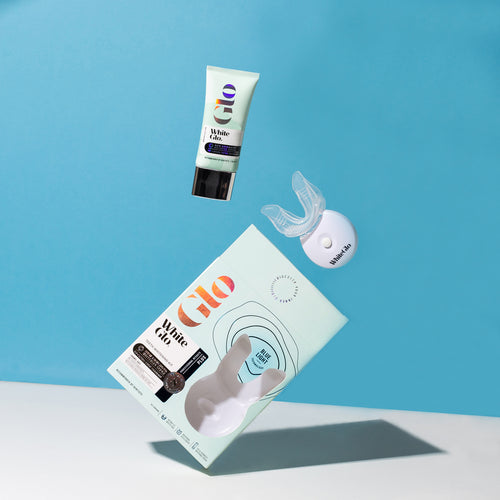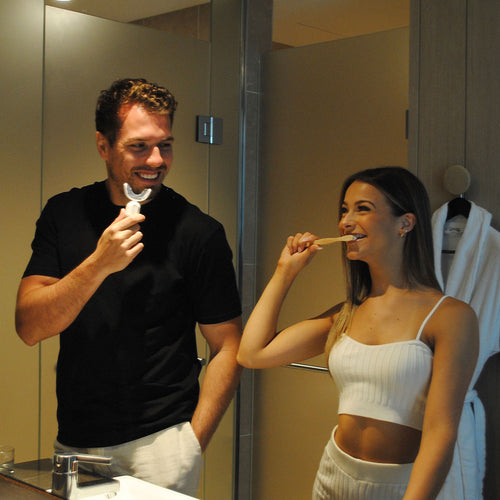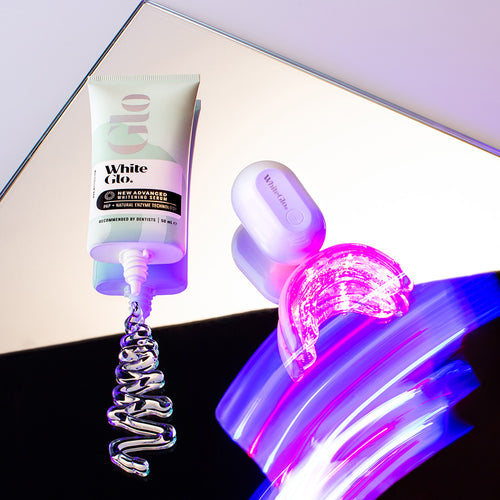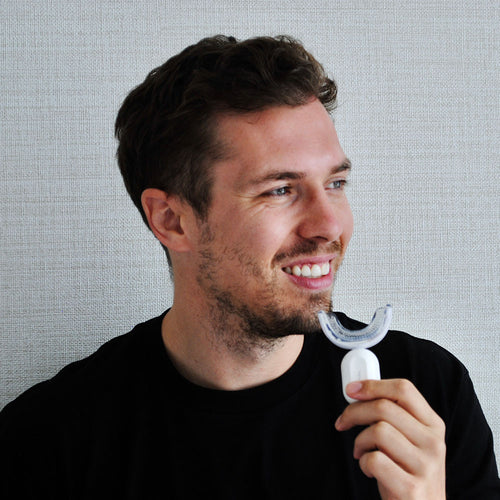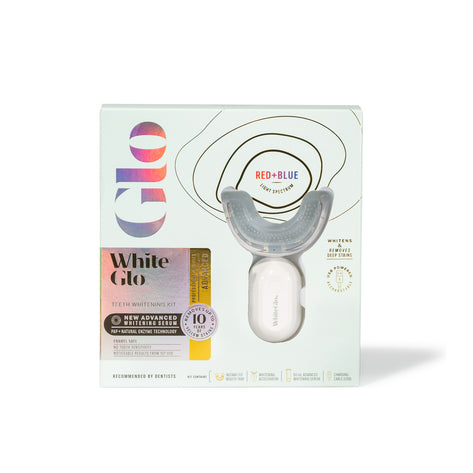 Teeth Whitening Kit
Regular price
Sale price
$19.99
Unit price
per
Sale
Sold out
100% money back guarantee
Free domestic shipping over $50
RED and BLUE light spectrum technology to improve the appearance of your smile.
PAP, Natural Enzymes and Peroxide – providing you with noticeable results from the first treatment. Developed by Australian dentists with the same ingredients they used in their clinics to provide professional whitening safely and without sensitivity at home. This whitening kit lifts stains and removes yellowing on the surface of your teeth enamel safely – without abrasion!
Using dentist technology, the blue spectrum helps to activate the White Glo Advanced Whitening Serum to accelerate the removal of stains, yellowing and discolouration
PAP+ natural enzyme technology
Enamel safe
No tooth sensitivity
Noticeable results from first use
Apply the whitening serum into the Instant-Fit Mouth Tray.
Place the mouth tray in your mouth. Hold the ON button for 2 seconds to turn on the device. Wait until the light turns off automatically after 10 minutes.
Rinse mouth with water.
As one of the first brands to bring whitening kits to your home, we take teeth whitening seriously.
The whitening serum is formulated to be gentle and not to cause any tooth sensitivity. By utilising different active whitening ingredients (PAP, Peroxide, Natural Enzymes), we can use them together to create a gentler formulation whilst being more targeted to tough stains and discolouration.
Propylene Glycol, Glycerin, 9% Carbamide Peroxide, Carbomer 980, Triethanolamine, Phthalimidoperoxycaproic Acid (PAP), Mentha Piperita (Peppermint) oil, Bromelain, Papain.
The most gentle and advanced whitening technology ever.
A tri-complex of active whitening ingredients has been formulated together for the first time. PAP + NATURAL ENZYMES + PEROXIDE combination for an effective whitening treatment whilst being gentle on teeth and gums.
Carefully developed by dentists with zero abrasion to ensure it is safe for tooth enamel and wont cause sensitivity. Utilising this tri-complex of active whitening ingredients allows for a gentler approach to whitening, whilst being stronger on stains.
Noticeable results from your first use. With continued use you will have superior whitening results.
Utilising dentist clinic's own technology, the blue light helps to accelerate the advanced whitening serum for exceptional results.
Trusted by the dental professionals.
"White Glo's new advanced formula is the most gentle formula out there and instantly whitens teeth"
DR. AODHAN DOCHERTY
AUSTRALIA'S LEADING COSMETIC DENTIST
Still have questions? We'll answer them.
White Glo whitening Kits have been designed to be gentle on your teeth and gums whilst giving you a effective whitening treatment.
We have 25 years experience in producing whitening kits, we guarantee that you can use these safely.
White Glo toothpaste and whitening kits can be used on crowns, veneers or false teeth. They wont whiten dental work, but remove any stains (or yellow plaque discolouration) that's built up on them and restore them to the original colour.
With the mild and gentle whitening technology children from 12 years of age can use.
Can't find the answer to your question? Email us at smiles@whiteglo.com for additional advice or contact your dental professional.
It's important to remove any food debris from your mouth before using White Glo's teeth whitening kit. We recommend brushing your teeth gently with White Glo toothpaste, prior to using. Ensure you brush gently so not to aggravate your gum line.
After treatment, try to avoid any coloured food or drinks, such as tea, coloured soft drinks, red wine, tomato-based sauces (sorry, that means your favourite spag bol), and even coloured toothpastes and mouthwashes for up to 12 hours – at least 3 hours is preferred.
They have been formulated as a daily use, gentle, enamel-safe whitening toothpaste. The toothpaste contains fluoride for all round oral care protection and formulated in a low abrasive.
First, don't forget to take a before picture so you can see the change in your glowing new smile.
Remember to brush your teeth before using the kit to remove any food debris – find your perfect White Glo toothpaste here.
After the 14-day treatment, don't forget to take that all-important after picture so you can compare your new smile!
You will have noticeable results after the first treatment however continuous use up to 14 days is recommended. Then take a one week break and can treat again for up to 14 days. Others may use it to maintain whiteness level by using 2-3 times weekly to maintain the whitening results.
You will see whitening after the first use, however for best results it's important to use the kit consistently over the course of a week.
Certain types of stains can't be removed such as intrinsic stains (for example caused by medication or existing internal damage to the tooth and root).
The whitening kit will not whiten veneers or false teeth, however it will remove plaque and stain build-up and restore these to their original colour.
Results may vary depending on teeth composition, consistency of use, and the level of staining.
Your White Glo experience is important to us. If you have any questions or concerns, reach out to us at smiles@whiteglo.com and we will assist you as quickly as we can.
If you're not satisfied with your purchase, we offer a 30-day money back guarantee from the time you receive your goods. Please contact us at smiles@whiteglo.com so we can help to resolve any issues.
Free domestic shipping over $50
100% money back guarantee
Buy now pay later with afterpay
Buy now pay later with afterpay
Read what our amazing community have said.
Give yourself the opportunity to try our new range.
We promise not to bombard your inbox. Receive 10% off on your first order and keep up to date on consumer trials and product giveaways.