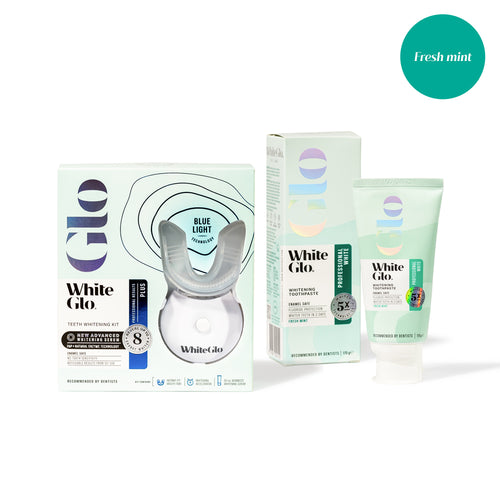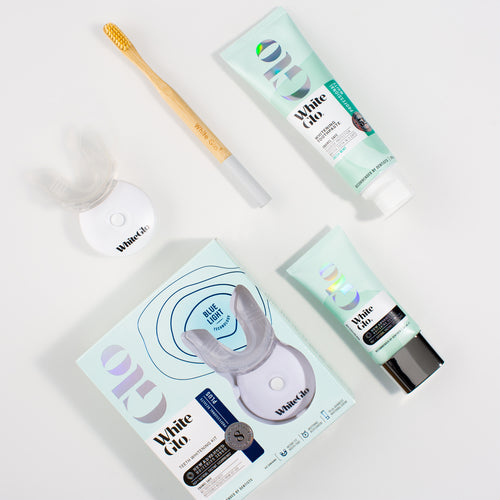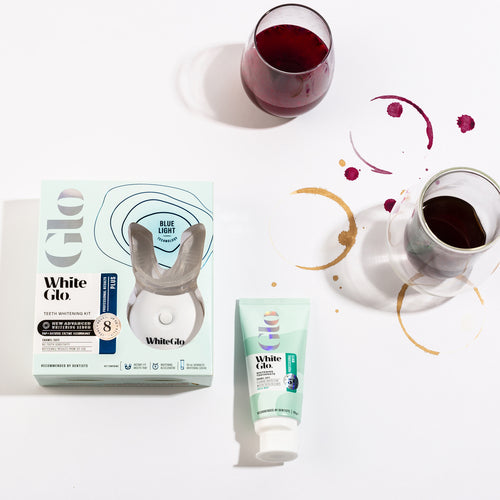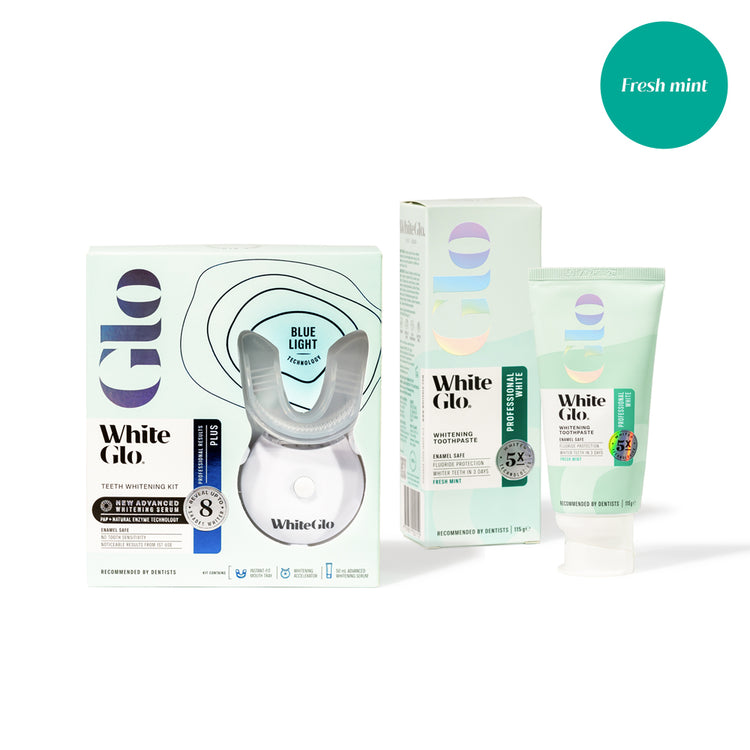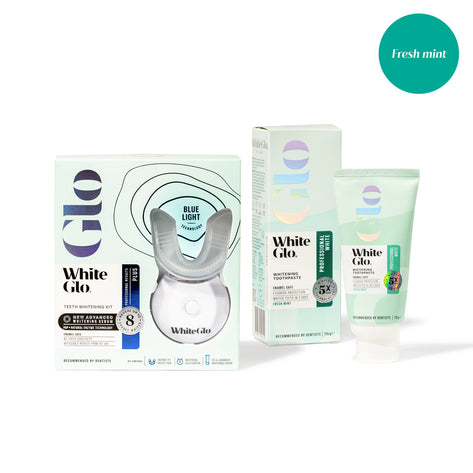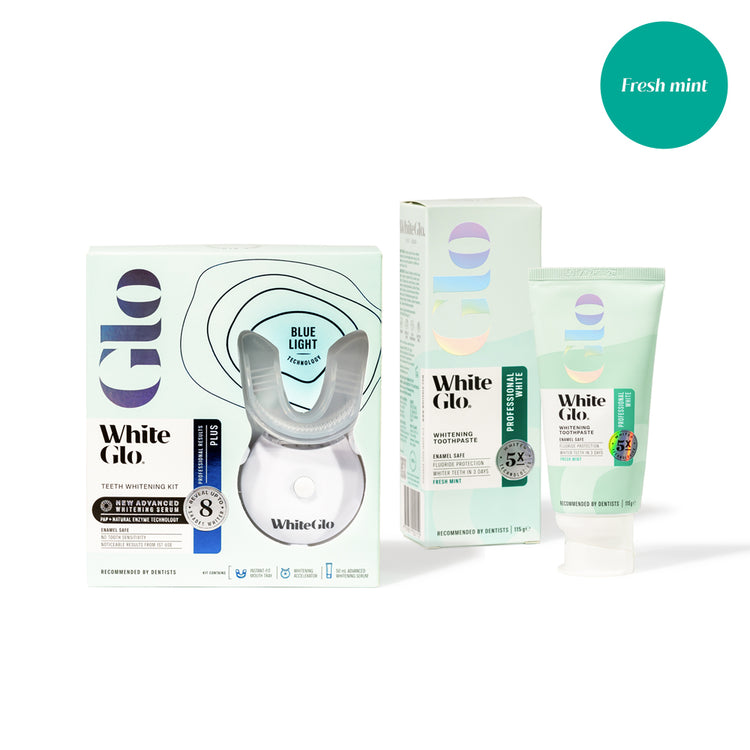 WHITENING KIT & PROFESSIONAL WHITE
Self Care Bundle
Regular price
Sale price
$33.00
Unit price
per
Sale
Sold out
100% money back guarantee
Free domestic shipping over $50
The ultimate self care whitening bundle that will bring out your inner glo.
The ultimate self care bundle for instant whitening results. Formulated with the highest concentration of whitening ingredients in the new White Glo range, this bundle of whitening kit and professional white toothpaste will deliver whitening results faster, gentler, and whiter.
Enamel safe
Fluoride protection
Whiter teeth in 3 days
Fresh mint
Toothpaste
Use daily in place of your ordinary toothpaste.
Brush thoroughly twice a day. Do not swallow.
Do not use this product for children aged 6 years and under.
Store in a cool place, away from heat.
Whitening Kit
Apply the whitening serum into the Instant-Fit Mouth Tray.
Place mouth tray in mouth. Hold the on button for 2 seconds to turn on the device. Wait until the light turns off automatically after 10 minutes.
Rinse mouth with water.
Good question! After extensive research and collaboration, we're excited to share our unique flavour, Fresh Mint, developed in conjunction with the best in this field ( a world leading, 100- year-old European fragrance house)
Unlike other toothpastes on the market, our refined blend of mint, peppermint and eucalyptol provides proven, long-lasting freshness. Think: fresh eucalyptus, thanks to cooling menthol, followed by gentle peppermint to mellow out the cool effect, with its sweet, green, minty freshness. Fresh Mint's unique cooling sensation drastically increases after rinsing and continues to develop, keeping your breath clean and fresh.
1x Plus Teeth Whitening Kit
1x Professional White Whitening Toothpaste 205G
Plus Teeth Whitening Kit
Propylene Glycol, Glycerin, 9% Carbamide Peroxide, Carbomer 980, Triethanolamine, Phthalimidoperoxycaproic Acid (PAP), Mentha Piperita (Peppermint) oil, Bromelain, Papain
Professional White Whitening Toothpaste
Calcium Carbonate, Sorbitol, Aqua (Water), Glycerin, Hydrated Silica, Sodium Lauryl Sulfate, Cellulose Gum, Aroma (Flavour), Sodium Benzoate, Hydroxyethylcellulose, Sodium Phytate, Sodium Saccharin, Sodium Bicarbonate (Natural Baking Soda), Phthalimidoperoxycaproic Acid, Hydrogen Peroxide, Bromelain, Sodium Phosphate, Mica, Sodium Monofluorophosphate
Start a new journey of self care with our bundle.
FORMULATED TOGETHER
Our whitening kits and whitening toothpastes use a formula that provides the greatest results, together
SELF CARE ROUTINE
Start your self care routine and enjoy whiter teeth and fresher breath after just one week
ENAMEL SAFE, SENSITIVE FREE
As with all of our products, we've put an emphasis on being safe and gentle on your teeth
We've got a seamless routine to get the ultimate whitening results.
1.
BRUSH WITH WHITE GLO TOOTHPASTE
2.
USE A WHITE GLO TEETH WHITENING KIT
3.
SAY HELLO TO YOUR NEW WHITE SMILE!
10 MINUTES
FRESH BREATH
WHITER SMILE
We've got some extra tips to help you get the best whitening results.
BRUSH DAILY WITH WHITE GLO TOOTHPASTE
RINSE MOUTH AFTER CONSUMING COLOURED FOOD OR DRINK
NO DARK FOOD OR DRINK AFTER WHITENING TEETH
Using the kit? Here's some things you can do whilst whitening!
WATCH YOUR FAVOURITE SHOW
APPLY MAKEUP FOR A NIGHT OUT
READ THAT RIVETING BOOK
START YOUR SKIN CARE ROUTINE
CHRONICLE THE DAY IN YOUR JOURNAL
RELAX WITH SOME MEDITATION
Still have questions? We'll answer them.
Yes, White Glo products have been developed and are recommended by leading dentists.
They have been formulated as a daily use, gentle, enamel-safe whitening toothpaste and whitening serum. The toothpaste contains fluoride for all round oral care protection and formulated in a low abrasive formulation.
Due to our mild, gentle whitening technology, children from 7 years of age can use White Glo Toothpaste daily.
For our whitening kits, with the mild and gentle whitening technology, children from 12 years of age can use our kits.
Using our whitening kits you will see whitening after the first use, however for best results it's important to use the kit consistently over the course of a week.
Start seeing results from just 3-7 days. Consistency of use over 1 month will result in a noticeable difference. Remember to take a picture before using White Glo, to see how far your smile has come!
Results may vary depending on teeth composition, consistency of use, and the level of staining.
We're so glad you asked. Our new formulation, the White Glo 5x whiter Technologies Range is a breakthrough in science, creating a faster, gentler and more powerful whitening that is formulated to be used daily.
At White Glo we have taken steps to be more conscious of our environmental impact, and we want to be transparent about that. Our new range contains 68 per cent less plastic than our previous products, something we're really proud about.
We have also partnered with cleantech company CleanHub, whose mission is to prevent plastic waste entering our oceans. Through its partnerships, CleanHub has recovered more than 1 million kilograms of plastic waste, and we are so proud to be part of this incredible mission.
It is our aim to be the number-one eco-friendly brand in supermarkets by 2024, and together with our expert team, we continue to develop and test biodegradable and reduced plastic innovations.
Read what our amazing community have said.
Give yourself the opportunity to try our new range.
We promise not to bombard your inbox. Receive 10% off on your first order and keep up to date on consumer trials and product giveaways.