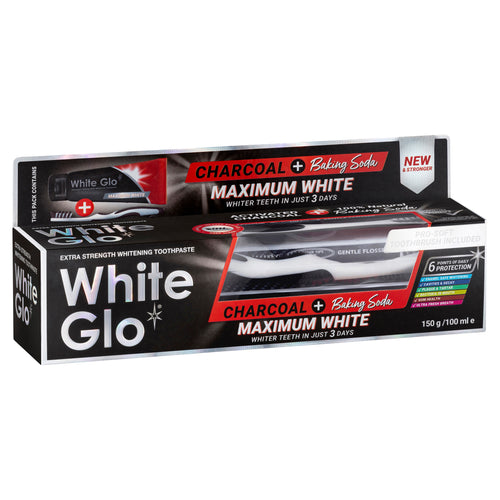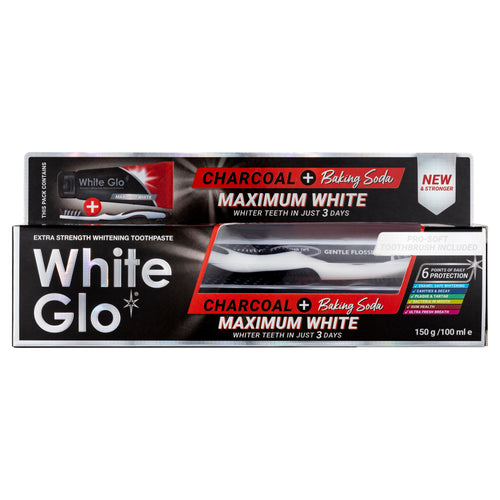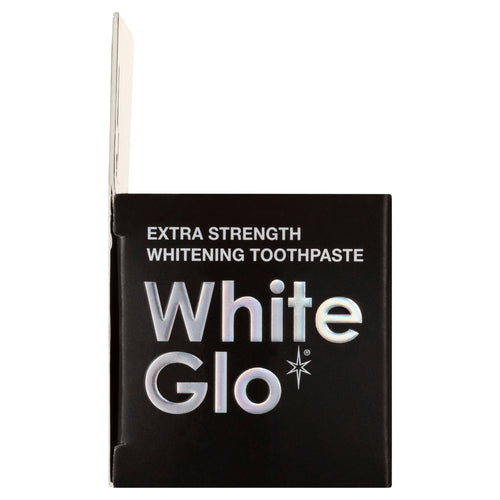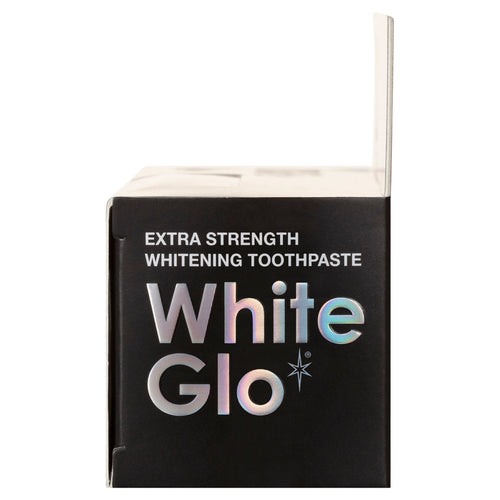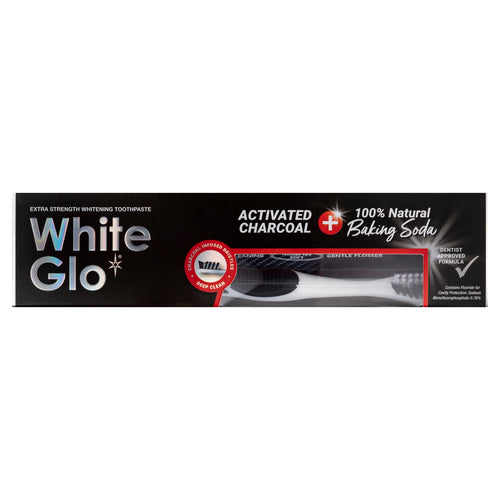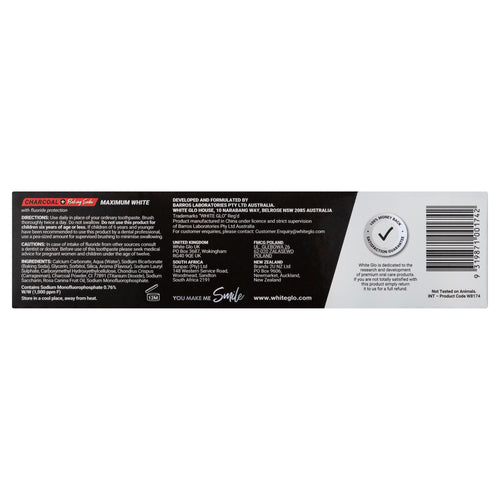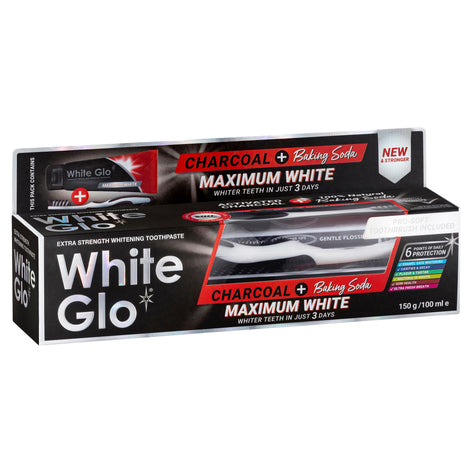 Charcoal + Baking Soda Maximum White Toothpaste 150g
Regular price
Sale price
$5.00
Unit price
per
Sale
Sold out
100% money back guarantee
Free domestic shipping over $50
WHITER TEETH IN JUST 3 DAYS

Maximise your teeth whitening results with this advanced toothpaste, naturally powered by Activated Charcoal and Baking Soda. Through regular brushing, this toothpaste will whiten yellow discolouration on your tooth enamel, This toothpaste has been developed to be used daily, to protect against cavities and decay, as well as keeping your mouth healthy and your breath fresh.

Included in your toothpaste pack are our Pro-Soft Toothbrush, which has ultra-comfortable Slim Tip bristle placements on the toothbrush head to optimise polishing, whitening and effective cleaning along the gumline, as well as 8 Flosser Toothpicks to make flossing easy and simple. Clear food particles and plaque from hard to reach spaces for improved oral health.
1x Charcoal + Baking Soda Toothpaste
1x Pro-Soft Toothbrush
8x Flosser Toothpicks
Calcium Carbonate, Aqua (Water), Sodium Bicarbonate (Baking Soda), Glycerin, Sorbitol, Silica, Aroma (Flavour), Sodium Lauryl Sulphate, Carboxymethyl Hydroxyethylcellulose, Chondrus Crispus (Carrageenan), Charcoal Powder, CI 77891 (Titanium Dioxide), Sodium Saccharin, Rosa Canina Fruit Oil, Sodium Monofluorophosphate
Lubricate your brush with small amount of water and squeeze pea sized amount on toothbrush
Insert toothbrush in mouth at a 45 degree angle to your gums and use a gentle circular motion to brush front teeth
Brush outside surfaces of teeth, making sure to get the back molars and upper areas of chewing surfaces
Flip the toothbrush upside down to get the inside of top front teeth and repeat for bottom front teeth
Brush your tongue
Rinse mouth to reveal your most confident smile
We offer a 30 day money back guarantee because if you're not satisfied, neither are we! To initiate a return, please contact customer.service@whiteglo.com with your order number and we'll provide you with the address to return the product to and next steps.
Welcome to the White Glo Family! Stay connected with us on Facebook and Instagram for funny, informative content that will undoubtedly help you unleash your most confident smile to the world.
How often should I use it?
White Glo Toothpastes designed for daily use. Dentists recommend brushing twice daily to provide protection from oral bacteria, cavities, decay and plaque.
When will I start seeing results?
Whitening Toothpastes results will be more gradual than our whitening treatments however we are confident that you will achieve a whiter smile from around 4 weeks of regular use.
Is this toothpaste harsh and abrasive on teeth enamel?
The White Glo toothpaste is a low abrasion formula, using a more premium ingredient "calcium carbonate" ingredient base as opposed to the harsher "hydrated silica" used in many mass produced toothpastes. Calcium carbonate is softer on Mohs scientific hardness scale than hydrate silica.
Will this cause sensitive teeth?
This whitening formula is designed for everyday use and should not cause any sensitivity. However please do contact us should you experience any issues.
What if I don't need the bonus toothbrush?
Dentists recommend changing your toothbrush regularly as weakened bristles lose their effectiveness. That is why White Glo includes a bonus toothbrush in each pack. We understand some people opt for an alternate electric brush or you simply find yourself with a surplus of unopened toothbrushes, you can donate them as part of our
community care initiative
.
Can it be used on veneers, dentures, braces etc?
White Glo Toothpastes are safe to use on dental work such as braces, veneers, dentures however it is unlikely these will respond to any whitening.
Read what our amazing community have said.
Give yourself the opportunity to try our new range.
We promise not to bombard your inbox. Receive 10% off on your first order and keep up to date on consumer trials and product giveaways.