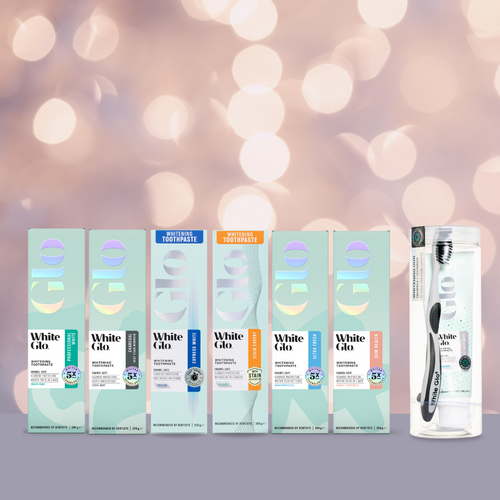 Twinkling Toothpaste Bundle
No reviews yet
Regular price
$43.00
Sale price
$31.00
Unit price
per
Sale
Sold out
100% money back guarantee
Free domestic shipping over $50
White Glo's Twinkling Toothpaste Bundle is the ultimate toothpaste collection that will have your smile shining brighter than Rudolph's nose!
Professional White Toothpaste: Formulated with the highest concentration of whitening ingredients in the White Glo range, Professional White is the ultimate whitening toothpaste providing results in just three days.

Charcoal Whitening Toothpaste: White Glo's Charcoal Deep Stain Remover Toothpaste is formulated with activated charcoal particles to naturally penetrate and draw out deep stains within the tooth enamel, giving you a brighter smile. 

Stain Expert Toothpaste: Stain Expert is formulated with micro polishing particles to lock onto stains and remove them gently. White Glo's Stain Prevention Technology utilises Jasminum Grandiflorum Flower Cera to stop stains from forming.

Express White Toothpaste: Express White Toothpaste provides fast and visible whitening results due to its high percentage Hydrated Silica and PAP. The Rosa Canina Fruit Oil and Vitamin C within the formulation works to nourish the teeth as it whitens.

Ultra Fresh Toothpaste: White Glo's Ultra Fresh Toothpaste contains a mouthwash base and utilises Evercool technology to help achieve a clean mouth and fresh breath for longer, with whiter teeth in 7 days.

Gum Health Toothpaste: White Glo's Gum Health Toothpaste is formulated with rose hip oil and strontium in a gentle formula to promote healthy gums, reduce plaque bacteria and whiten teeth in 7 days.

Whitening DUO: Achieve whiter results with White Glo's special stain erasing combination, the Whitening DUO. A specially formulated toothpaste and an advanced toothbrush created together to give optimum cleaning and whitening results.

White Glo Green Cosmetic Bag: A medium size mint green cosmetic bag, perfect for storing all of your favourite products.

Give the gift of a healthy white smile this Christmas with White Glo's Twinkling Toothpaste bundle.
1x Professional White Toothpaste (205g)
1x Charcoal Toothpaste (205g)
1x Express White Toothpaste (205g)
1x Stain Expert Toothpaste (205g)
1x Gum Health Toothpaste (205g)
1x Ultra Fresh Toothpaste (205g)
1x Whitening DUO
1x White Glo Green Cosmetic Bag
Please follow the instructions on the packaging or visit each page for more information.
We offer a 30 day money back guarantee because if you're not satisfied, neither are we! To initiate a return, please contact customer.service@whiteglo.com with your order number and we'll provide you with the address to return the product to and next steps.
Welcome to the White Glo Family! Stay connected with us on Facebook and Instagram for funny, informative content that will undoubtedly help you unleash your most confident smile to the world.
Read what our amazing community have said.
Give yourself the opportunity to try our new range.
We promise not to bombard your inbox. Receive 10% off on your first order and keep up to date on consumer trials and product giveaways.