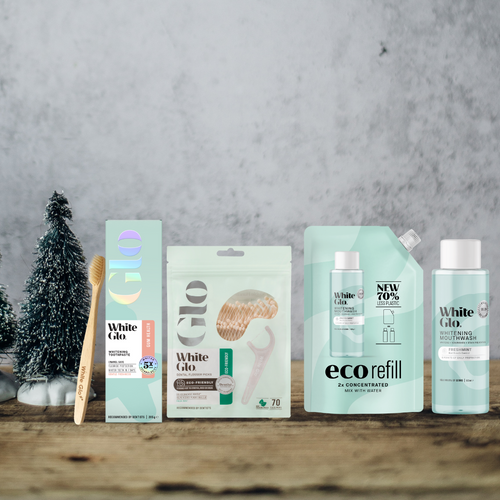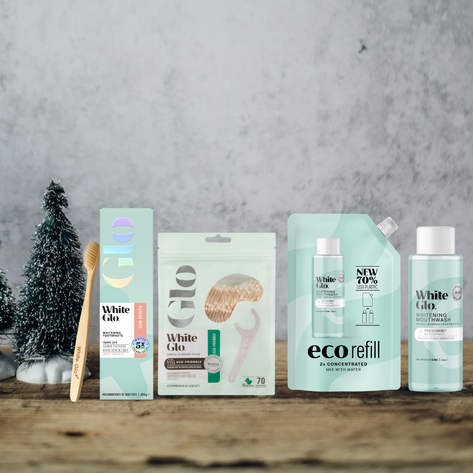 Holiday Hygiene Bundle
No reviews yet
Regular price
$33.00
Sale price
$21.00
Unit price
per
Sale
Sold out
100% money back guarantee
Free domestic shipping over $50
White Glo's Holiday Hygiene Bundle is the ultimate way to keep oral hygiene at the centre this Christmas and maintain your healthy and glowing smile throughout the festive season.
Gum Health Toothpaste: White Glo's Gum Health Toothpaste is formulated with rose hip oil and strontium in a gentle formula to promote healthy gums, reduce plaque bacteria and whiten teeth in 7 days.

Bamboo Toothbrushes: Look after your oral health and the environment with White Glo's Bamboo Toothbrushes. Featuring premium deep cleaning bristles to clean hard-to-reach areas of the gums, and biodegradable bamboo handle, this brush is the ultimate way to brush your teeth. 

Eco-Flossers: White Glo's Eco-Flossers are the most convenient way to floss between teeth and gums. With an in-built toothpick and a floss that is designed not to tear or shred, these flossers remove food and plaque with ease. Created with a biodegradable handle, making them environmentally friendly.

Mouthwash & Eco-Refill: White Glo's Whitening Mouthwash contains an advanced formulation to remove 99.9% of bacteria, whilst nourishing gums, whitening teeth, and preventing stains from forming on enamel. It contains Evercool technology to provide long lasting freshness that last for hours. White Glo's Whitening Mouthwash also comes in a double concentrated 500ml refill bag, for value packed yet sustainable and eco-friendly oral care. 

White Glo Green Cosmetic Bag: A medium size mint green cosmetic bag, perfect for storing all of your favourite products.

This holiday season, prioritise your oral health with White Golo's Holiday Hygiene Bundle. Perfect for you or as a thoughtful gift.
1x Gum Health

 Toothpaste (205g)

1x Bamboo Toothbrush (4pk)
1x Eco-Flossers (70pk)
1x Mouthwash & Eco-Refill
1x White Glo Green Cosmetic Bag
Please follow the instructions on the packaging or visit each page for more information.
We offer a 30 day money back guarantee because if you're not satisfied, neither are we! To initiate a return, please contact customer.service@whiteglo.com with your order number and we'll provide you with the address to return the product to and next steps.
Welcome to the White Glo Family! Stay connected with us on Facebook and Instagram for funny, informative content that will undoubtedly help you unleash your most confident smile to the world.
Read what our amazing community have said.
Give yourself the opportunity to try our new range.
We promise not to bombard your inbox. Receive 10% off on your first order and keep up to date on consumer trials and product giveaways.