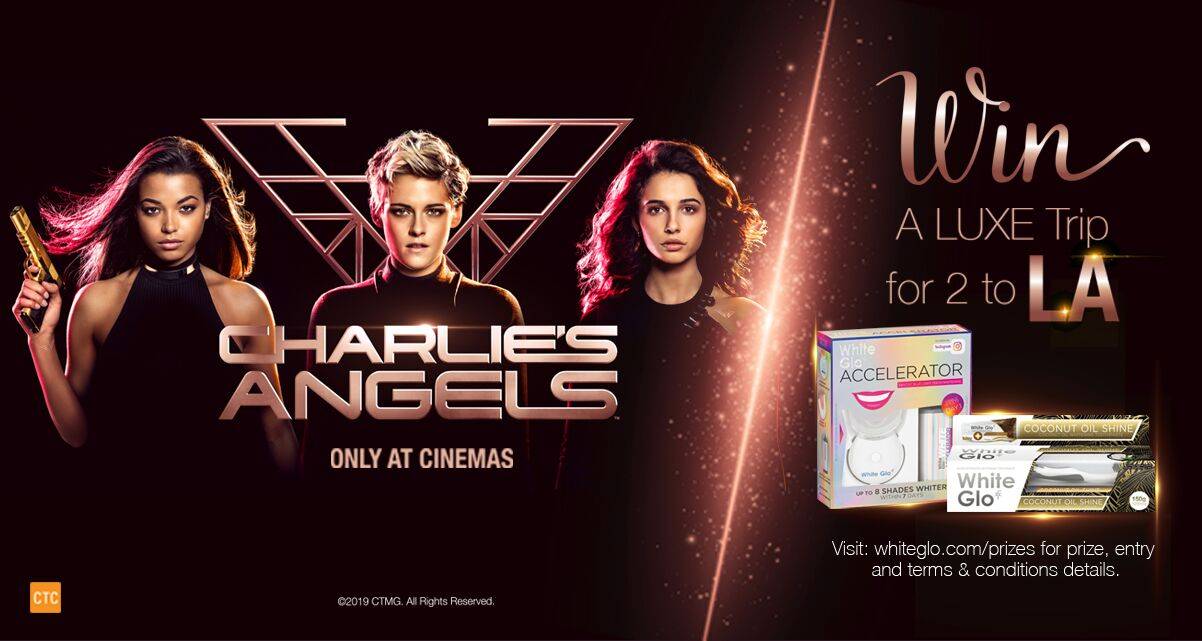 CHARLIE'S ANGELS LA LUXE MISSION
TRIP FOR 2 (Valued AUD$19,000)
---
- Return flights from winners' nearest capital city to Los Angeles
- 5-night stay at the world famous Chateau Marmont hotel
- $1,000 spending money at Saks Fifth Avenue
- Cocktails at Spire 73, the world's tallest open-air bar
- Private Tesla transfer to Malibu and return
- Lunch by the ocean at Nobu Malibu - one of the most instagrammed restaurants in the world
- Travel Insurance
WHITE GLO TEETH WHITENING
Products Packs

---
20 - White Glo Teeth Whitening Products
Packs featuring an assortment of the most popular teeth whitening products to get you a Hollywood smile!
CHARLIE'S ANGELS
Double Pass Movie Tickets
---
20 - Charlie's Angels Double Pass Movie Tickets + limited version cosmetic pouch
---

Simply purchase any
White Glo product
at any store


Upload proof
of purchase
(copy of receipt)


Complete the form
below with your 25 word
or less response.

---
THE WINNERS WILL BE ANNOUNCED ON INSTAGRAM @WHITE.GLO
Limit 1 entry per receipt. Maximum file size upload is 10mb.
The "Promoter" is WHITE GLO, 10 Narabang Way Belrose, Sydney NSW 2085, AUSTRALIA
---
Strictly one entry per receipt only.

Entry is open to all Australian residents, over the age of 21. Employees or contractors of the promoter and other companies associated with the promotion and their immediate families are not eligible to enter.
Entrants must purchase a White Glo product, upload the proof of purchase, and complete form at www.whiteglo.com/prizes
The Competition commences 1st October 2019 and closes 10am 15th Dec 2019.
This is not a lottery and is a game of skill. The winner will be assessed by their response in the 25 words criteria based on creativity.
By entering you agree to give full usage for White Glo to use your entry in marketing and promotional materials and future contact.
Major prize winner will be chosen and announced on 16th Dec 2019.
Minor prizes will be drawn throughout the competition.
Winners will be announced via Instagram @white.glo.
Winners must respond to our contact and provide personal information to receive the prizes.
Further information can be requested at info@whiteglo.com.
The promotion is made in good faith and the final decision of all outcomes, omission or errors will be solely made by White Glo.
LOS ANGELES TRIP FOR 2 PRIZE CONDITIONS:

Package is based on 2 people sharing a room.
Spending money will be sent to the winner via EFT ($500 each). It is a condition of the prize that winner and guests use this money towards purchases in store Saks Fifth Avenue, Beverly Hills to qualify for personal shopper experience. Winner will be required to provide their bank accounts details including bank name, account name, BSB and account number.
Dates of travel must be confirmed within 45 days of notification of winning prize.
All prize inclusions are subject to availability during winners choices of travel dates. If a particular element is unavailable then a replacement to the same value will be provided. If Chateau Marmont is not available at time of booking then an alternative property will be used.
Unless otherwise stated, winner and guest/s are to make their own way to and from all prize inclusions.
All elements are subject to availability at time of booking. There is no cash alternative. Prize is non-refundable and non-transferable.
Not to be taken over USA or Australian Public or National holiday periods.
Not valid between 14 December 2019 and 14 January 2020.
Travel must be completed within 12 months of notification of winning
Winner will be required to produce credit card upon check in to hotel for incidentals. This is mandatory.
Winner and guest must be aged over 21 years.
Airline Tickets are non-transferable (i.e. no name changes allowed). Once tickets are issued, they are non-transferable. Any alterations to confirmed flights and/or accommodation and/or scheduling arrangements will be at the expense of the winner and their travelling companions and cannot be split across different time periods.
Individual supplier terms and conditions apply.

Flights are economy class and may be indirect. The airline's Conditions of Carriage apply to all flights. The Winner and travelling companions must travel at the same time and are responsible for transport from their residence to their nearest Capital City Airport in Australia. These conditions apply for all flights.
Airline, flight route and dates of travel are subject to the promoter's absolute and final decision.
Winner and his/her guest must have valid e-passports and applicable visas/permissions. Passports must have 6 months validity from the return date of entry back into Australia.
Winner and his/her guest are responsible for registering with the US Visa Waiver programme: https://esta.cbp.dhs.gov if applicable.
The United States requires that travelers entering the United States under the Visa Waiver Program (ESTA) hold an e-Passport if their passport was issued on or after 26th October 2006.
Travel Insurance to the value of $200 per person will be provided as part of the prize package.
Travel insurance is valid for passengers under 85 years of age and without pre-existing conditions: PRE-EXISTING CONDITION means: in respect of Injury: a condition with which the Insured Person was aware of (whether diagnosed or not) or has sought treatment prior to the Insured Travel covered under this Policy. 2. in respect of Sickness: i. a condition or side effect with which the Insured Person was aware of (whether diagnosed or not) or has sought treatment prior to the Insured Travel covered under this Policy. If any form of cancer is a Pre-Existing Condition, then there is no cover for cancer or cancer-related conditions. ii. a condition caused by a Pre-Existing Condition, that is, any medical condition that You have suffered from or been treated for, irrespective of whether a complete recovery has occurred. In the event of not qualifying for the included travel insurance, the winner will be required to obtain their own travel insurance policy.
Any changes by the winner made to the specified prize package (including travel extensions, additional guests, etc) will be subject to an administration fee of $250 excluding GST, which must be settled in full prior to booking confirmation.